iFIT Bike Support: Getting Started With iFIT
Working out on an exercise bike is one thing. Working out with iFIT® on your exercise bike is a game changer! Your bike workouts are elevated to a level of fitness that's never been done before, and we're not just talking about impressive incline features. iFIT challenges its users with a range of exercises from interval training to HIIT workouts, including taking workouts off the bike for an even more well-rounded workout that'll leave workout boredom a thing of the past–not to mention fascinating global workouts that virtually take you straight out of your home to far away countries.
Now, let's get you started on this brand new fitness journey of yours with iFIT, and start taking advantage of everything your iFIT membership has to offer.
Getting Started With iFIT On Your Exercise Bike
Step 1: Download The iFIT App On Your Phone Or Tablet
Go to the App Store® or Google Play™ and download the iFIT app.
iFIT app icon looks like this: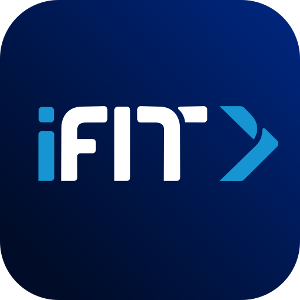 Step 2: Log Into Your iFIT Account
If you're new to iFIT, simply follow the steps to create an account. And if you already have an account, login with your Facebook® or email address.
Step 3: Create An iFIT Profile
For new members, you'll be asked basic information like your measurements, fitness goals, and which iFIT membership type you would like. If you're already a member, the system should already be programmed with your information that you had previously filled out. If that's the case, you can quickly verify it and be on your way. Your information is private and can be referred back to or changed at any time.
Step 4: Connect To Your Exercise Bike
If you'd like, you can connect the iFIT app to your Bluetooth® smart-enabled exercise bike. That way, your iFIT trainer can virtually adjust your bike's incline and speed range to follow along with their workout instructions.
There's also a Bluetooth® connectivity feature to connect your Bluetooth® headphones to your exercise bike. Simply follow the steps on your bike's touchscreen or you can also refer to Bluetooth® Headphone Connectivity To Your NordicTrack Machine for step-by-step instructions.
Step 5: Use With Different Exercise Bikes
If you don't have an iFIT-enabled exercise bike at home or you're away with only random bikes available for use, you can still access all of your iFIT workouts. The only difference is having to alter the bike's incline, decline, resistance, and speed manually to follow along with your iFIT trainer during your workout.
Step 6: Use Without An Exercise Bike
Even if you're traveling and away from your exercise bike, you can still access iFIT and its vast library of workouts no matter where you are. Different workout options include body weight exercises, yoga, and even meditation. 
As a matter of fact, iFIT is compatible with a TV! Simply download the iFIT TV app on your Apple® TV, Google® TV/Android® TV, and Amazon® Fire TV (Roku® is coming soon), and never skip a beat on your fitness.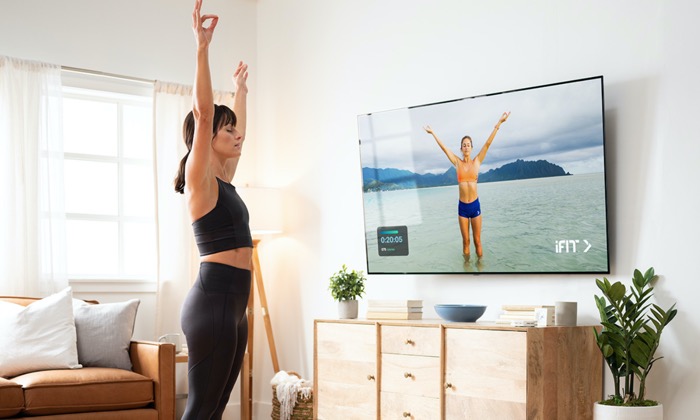 Conclusion
Now's the time to start holding yourself accountable, being consistent, and start seeing results. iFIT may be just the ticket to help you achieve all your health and fitness goals, and perhaps even motivate you to make new ones. 
Don't forget to check back here on Exercisebike.com for all your iFIT bike support, and learn more tips and tricks about using your home exercise bike to make your "unattainable goals" full on achievements.  
DISCLAIMER: This article is not intended to replace the advice of a medical professional. The above information should not be used to diagnose, treat, or prevent any disease or medical condition. Please consult your doctor before making any changes to your diet, sleep methods, daily activity, or fitness routine. Exercisebike.com assumes no responsibility for any personal injury or damage sustained by any recommendations, opinions, or advice given in this article. Always follow the safety precautions included in the owner's manual of your fitness equipment.
IFIT DISCLAIMER: iFIT requires an internet connection and Wi-Fi to function. You will be required to provide your credit card information upon sign-up for iFIT. Your Commitment Period may be month-to-month or twelve (12), eighteen (18), or thirty-six (36) months, depending on your agreement. Terms shall apply to your iFIT use and subscription during your Commitment Period and any subsequent Renewal Term. Unless you cancel your account or notify us at least twenty four (24) hours prior to the expiration of your commitment period that you do not wish to renew your subscription, your iFIT subscription will automatically renew for an additional month, one (1) year, or two (2) year period, as applicable, for the same duration as your initial commitment period ("The Renewal Term"), and you authorize us to bill the then-applicable membership fee and any taxes to the payment method we have on record for you. 
Sources:
https://exercisebike.com/exercise-bike-home-gym-benefits/
https://www.nordictrack.com/learn/workouts-offered-on-ifit/
https://www.proform.com/blog/expand-mind-health-with-ifit-global-workouts/
https://apps.apple.com/us/app/ifit-at-home-fitness-workout/id1274601042
https://play.google.com/store/apps/details?id=com.ifit.palantir&hl=en_US&gl=USS
https://www.proform.com/blog/connecting-bluetooth-headphones-to-machine/
https://www.nordictrack.com/learn/bluetooth-headphones-connectivity-to-machine/