Bike Review: NordicTrack Commercial S22i Studio Cycle
UPDATED, September 13, 2021
Did you know there's a NordicTrack exercise bike that can make your indoor bike workout smoother, more challenging, more comfortable, and more entertaining than before? The NordicTrack Commercial S22i Studio Cycle is just the ticket to achieving all these perks and providing a world-class cycling experience that you don't have to leave home for.
Since investing in an exercise bike is a big decision, it's important to make sure you learn as much as you can about any bike you're interested in before you buy. So, we're sharing our detailed bike review of the S22i to help you decide whether or not this first-class piece of equipment is the right solution for your indoor bike workout needs. You'll find all of it's details, including its new-for-2021 upgrades and iFIT's new 30-Day Trial, and other features that make this bike a good investment for anyone serious about leveling up on their fitness.
NordicTrack Commercial S22i Studio Cycle Review
iFIT® Membership Included With Bike Purchase
An advantage that NordicTrack brings to the fitness industry that no one else can match is the interactive technology of the iFIT experience. As one of the best features of the S22i, this highly-rated personal training program provides visualization and challenging workouts of all types that take you on and off the bike. Workouts range from bootcamps in the iFIT studio to interval training workouts filmed in different locations around the world, including yoga and mindfulness sessions that you can stream to your TV.
Don't just take our word for it. Forbes® contributor, Andrew Williams, expresses his enjoyment in his NordicTrack S22i review: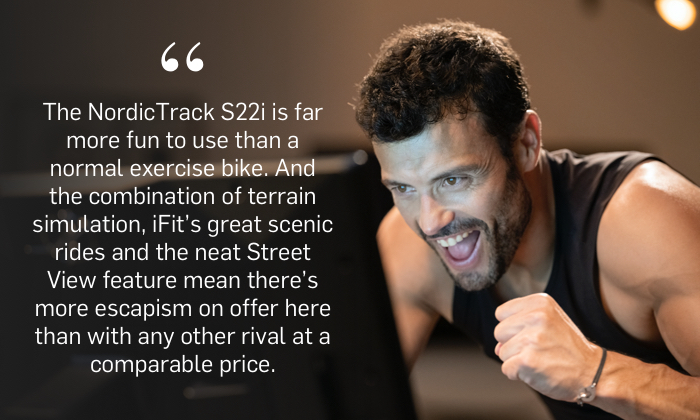 The best part? iFIT is continuously creating new and innovative ways to improve your health and fitness with their program. It really is limitless! To prove so, iFIT is now giving new users a iFIT 30-Day Trial to experience their platform without any long-term commitment.
Upgraded 22" Rotating Smart HD Touchscreen
It's no secret that a large screen can provide a much more immersive workout experience than a small monitor. If you're wondering whether the S22i is worth the price, the touchscreen alone may answer that question. It's an upgraded 22" Smart HD Touchscreen that has a rotating feature to accommodate iFIT workouts that take you off the bike; providing an even more well-rounded, total-body workout opportunity.
Additionally, with the combination of the large touchscreen and iFIT workouts, you can become completely enthralled with the mesmerizing views of the world during iFIT global workouts. By selecting the Turkey Endurance Cycle Workout Series on iFIT, it's the moment where your daily exercise transforms into daily travel. See for yourself:
Enhanced Automatic Trainer Control
Who would've thought that your bike can be adjusted automatically without you having to do so yourself during a workout? The powerful combination of NordicTrack and iFIT allows you to fully focus on your form and workout, so you can maximize your time and calorie burn while your iFIT trainer adjusts your tension and incline for you. And for 2021, the Automatic Trainer Control has been enhanced further to provide a smoother adjustment transition and even more incredible experience than before.
Improved HD Graphics Performance With Added Processor Cooling
The S22i Studio Cycle has also improved its HD graphics performance with added processor cooling, so the iFIT workout experience is even more captivating and reliable.
Faster Dual 2.5 GHz and 5GHz Wi-Fi™ Connectivity
The S22i's dual 2.5 GHz and 5GHz Wi-Fi™ connectivity has enhanced further to provide a smooth, higher quality, and continuous connection. Streaming workouts are even quicker and reliable, so you can work out with ease.
New NordicTrack Quiet Drive Incline Tech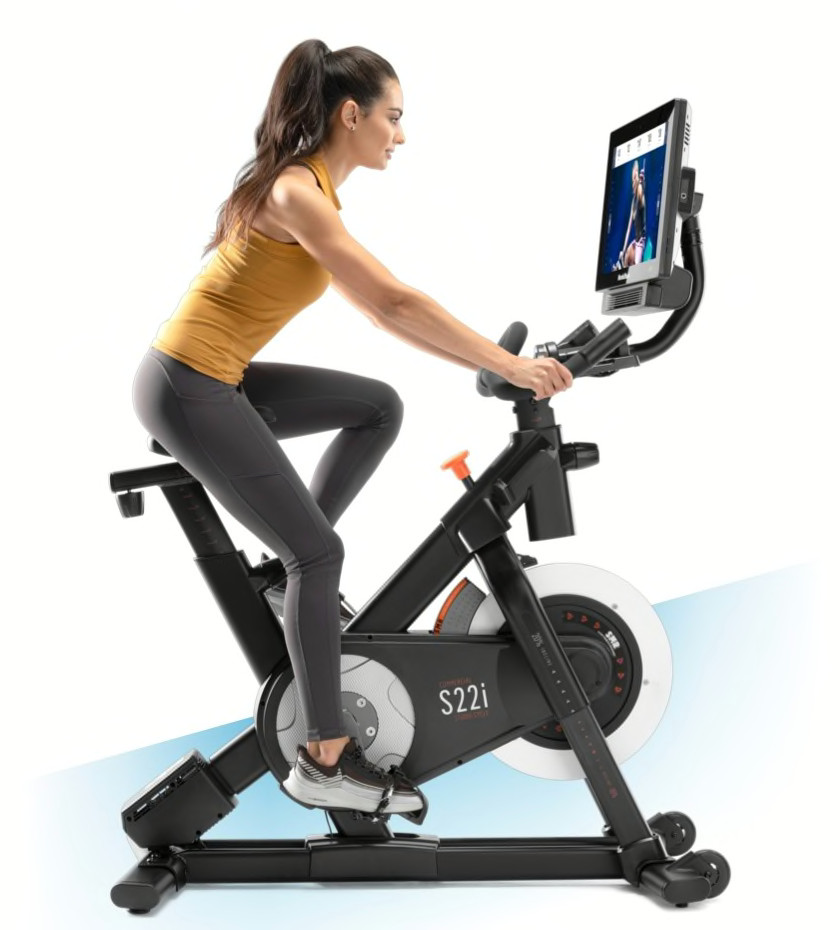 One of the new 2021 features the S22i offers is the Quiet Drive Incline Tech. This technology enhances the incline capabilities to be more soundless for your convenience while amping up the challenge to impressive heights.
You, or your iFIT trainer, can set your bike to as low as a -10% decline or as high as 20% incline. This wide range of incline options makes it easy to achieve the intensity you want from every workout you do.
Additional S22i Bike Features
A few of the other additional new features of the NordicTrack S22i include:
New Android® 9 OS
New Bluetooth® headphone and heart rate* connectivity
New 2X more RAM
Two 2" digitally amplified speakers
Two 3 lb. dumbbells included
Google Maps™ workout technology
SMR™ silent magnetic resistance
24 digital resistance levels
One Touch® Controls
All of these features illustrate why most buyers think the S22i bike is worth the price. It doesn't matter if you're a beginner to fitness or an advanced cyclist, the NordicTrack Commercial S22i Studio Cycle accommodates all users who are looking for a phenomenal workout experience and a bike that's also a complement to any room in their home.
Conclusion
If you're looking for an immersive, fully customizable workout experience, you can't go wrong with the NordicTrack Commercial S22i Studio Cycle. With its astonishing features and new upgrades and enhancements, it's easy to see why this bike consistently makes headlines in the news, including being named the Best Exercise Bike For 2020 by NBC News®.
Visit the NordicTrack website for more information about this fan-favorite, and report back here on Exercisebike.com for all of your bike reviews.
DISCLAIMER: This article is not intended to replace the advice of a medical professional. The above information should not be used to diagnose, treat, or prevent any disease or medical condition. Please consult your doctor before making any changes to your diet, sleep methods, daily activity, or fitness routine. Exercisebike.com assumes no responsibility for any personal injury or damage sustained by any recommendations, opinions, or advice given in this article. Always follow the safety precautions included in the owner's manual of your fitness equipment.
*Heart rate monitors used for exercise such as the wireless heart rate monitoring chest strap, grip sensors, or forearm monitors are not medical devices, and their accuracy may be affected by a number of factors. They are also not intended to diagnose, treat, cure, or prevent any disease.
IFIT DISCLAIMER: iFIT requires an internet connection and Wi-Fi to function. You will be required to provide your credit card information upon sign-up for iFIT. Your Commitment Period may be month-to-month or twelve (12), eighteen (18), or thirty-six (36) months, depending on your agreement. Terms shall apply to your iFIT use and subscription during your Commitment Period and any subsequent Renewal Term. Unless you cancel your account or notify us at least twenty four (24) hours prior to the expiration of your commitment period that you do not wish to renew your subscription, your iFIT subscription will automatically renew for an additional month, one (1) year, or two (2) year period, as applicable, for the same duration as your initial commitment period ("The Renewal Term"), and you authorize us to bill the then-applicable membership fee and any taxes to the payment method we have on record for you.
Sources:
https://www.nordictrack.com/exercise-bikes/s22i-studio-bike
https://exercisebike.com/buying-guide-2021/
https://www.nordictrack.com/learn/s22i-bike-just-got-better/
https://www.nordictrack.com/learn/ifit-experience-reviewed/
https://www.nordictrack.com/learn/s22i-with-amazing-feature-peloton-lacks-forbes/
https://livehealthy.chron.com/cardio-exercises-exercise-bikes-1962.html
https://www.nordictrack.com/learn/explore-ifit-home-workouts-for-free/
https://www.ifit.com/library/programDetails/5db348572128bd04ff083d58/turkey_endurance_series
https://www.youtube.com/watch?v=jbdZNIDvwaU
https://www.nordictrack.com/learn/bluetooth-headphones-connectivity-to-machine/
https://www.nordictrack.com/learn/s22i-bike-frequently-asked-questions/
https://www.nordictrack.com/learn/s22i-best-exercise-bike-2020/