Bike Review: ProForm Studio Bike Pro 22
UPDATED, September 13, 2021
Not all exercise bikes are created equal, which is why it's so refreshing to actually enjoy working out on a bike that's meant to keep you comfortable while also allowing you to challenge yourself in an entertaining way. If you're in search of an exercise bike that helps elevate your workouts and makes them feel more like fun and games than work, then you want to check out the ProForm Studio Bike Pro 22. This impressive bike is chock-full of features that users have come to love.
Of course, no one should purchase workout equipment without reading up on it first. Adequate research is important when investing in a piece of equipment. That's why we're providing you with this convenient bike review that takes an in-depth look at the various features that make the Studio Bike Pro 22 worth buying.
ProForm Studio Bike Pro 22 Review
30-Day iFIT® Family Membership Included With Purchase
We can't help but start out by featuring the most popular and most loved feature of them all that is available on the Studio Bike Pro 22: the iFIT virtual training program. iFIT is a subscription program that encompasses all that you would want from a personal trainer, including a huge variety of workouts to mix up any routine.
With a touch of a button, iFIT global workouts transport you to places like Croatia, Turkey, and Mount Everest without any kind of travel necessary. Better yet, choose iFIT studio workouts so you can focus merely on your form and intensity with world-renowned personal trainers. The kind of workout variety that iFIT brings to your home with real pros can give each user something to look forward to each and every day.
Don't just take our word for it, check it out with ProForm! A 30-day iFIT family membership is included with your purchase of the Studio Bike Pro 22. No hassle and no commitment until your 30 days is up for expiration. And to sweeten the deal even further, get your friends and family to join you! The iFIT family membership allows a total of five users to use the same subscription, so there's no better time to get a little friendly competition together with your loved ones, and see who comes out on top!
Better yet, iFIT has recently allowed new users access with a 30-Day iFIT Trial so you can explore virtual training at home before any long-term commitment.
LIVE Interactive Training
As we've already introduced the iFIT personal training program above, there are additional iFIT-related features that we yet have to mention. Not only are you getting access to global workouts with the best in the business, you're also given the opportunity to experience a LIVE interactive training session that is beyond amazing. 
LIVE interactive training technology has been carefully engineered to simulate the most terrain-like experience you can explore without having to leave your home. As your iFIT trainer guides you through a workout, your Studio Bike Pro 22 will automatically adjust itself to match the workout and terrain. If there's a change in incline, speed, or resistance, your bike was programmed to simulate the exact workout that your iFIT trainer is doing so you can truly be challenged and, of course, benefit from your workout.  
22" Smart HD Touchscreen Display With SmartSwivel™
To complement the iFIT experience, the Studio Bike Pro 22 has a large 22" Smart HD Touchscreen with SmartSwivel™ to provide a vivid appearance of each and every workout, including the opportunity to take workouts off your exercise bike and still have an unobstructed view of your iFIT trainer. This freedom of movement to follow your trainer on and off your bike allows for a better, well-rounded workout without compromising your form to see your bike's touchscreen.
Ergonomic Padded Seat
ProForm shares the idea that workouts should challenge your body without having to cause any major discomfort, which is why they have added an ergonomic, padded seat. The seat can be adjusted vertically and horizontally so that you get the best fit possible for your body. Be sure to take the time to review your seat height and body positioning on your bike to avoid any kind of discomfort and potential injury from occurring.
Multi-Position Adjustable Handlebars
Whether you like to ride upright or in a more forward-leaning road bike position, the Studio Bike Pro 22's adjustable handlebars will help you get just the right positioning for your preferences. They can be adjusted to five different positions up or down until you find the setting that feels most comfortable.
24 Digital Levels of Resistance
The Studio Bike Pro 22 has SMR™ Silent Magnetic Resistance, which makes it easy to adjust the intensity of your workout without hearing the tension changes. This convenient technology allows for a frictionless ride, which bystanders will love as well.
Auxiliary Audio Port
With the addition of an auxiliary audio port and dual 2-inch speakers, you'll be able to hear your iFIT trainer and/or music with less complication. Simply plug in using your favorite headphones, and tune out the world!
Optional SmartBeat™ Forearm Heart Rate Monitor*
The Studio Bike Pro 22 is compatible with the SmartBeat™ Forearm Heart Rate Monitor, so you can train more wisely and efficiently with hands-free technology.
Dual 3 Lb. Dumbbells Included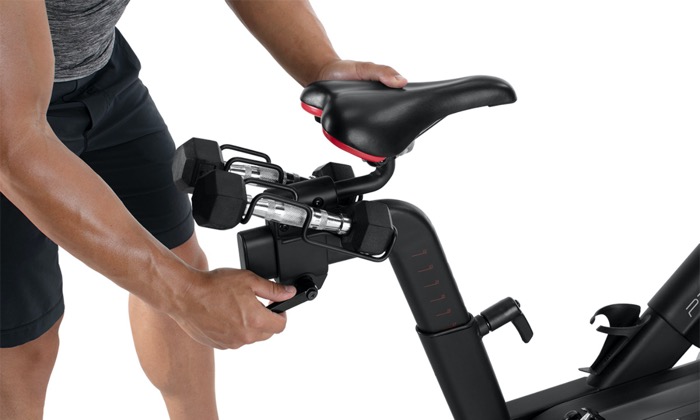 As an exercise bike focuses on the lower body, ProForm has incorporated dual 3 lb. dumbbells to provide more of a total-body workout opportunity. These will also come in handy for iFIT workouts that involve strength training, HIIT, and off-the-bike workouts.
Conclusion
As you can see with our bike review, there are a lot of great reasons to purchase the ProForm Studio Bike Pro 22. With inventive features, tech savvy options, comfort and convenience-driven engineering, we'd have to say this bike is definitely one you should consider to invest in.
For more information about the ProForm Studio Bike Pro 22, visit ProForm.com. And to read more exercise bike reviews, check back on our Reviews page. Including our new NordicTrack S22i bike review.
DISCLAIMER: This article is not intended to replace the advice of a medical professional. The above information should not be used to diagnose, treat, or prevent any disease or medical condition. Please consult your doctor before making any changes to your diet, sleep methods, daily activity, or fitness routine. Exercisebike.com assumes no responsibility for any personal injury or damage sustained by any recommendations, opinions, or advice given in this article. Always follow the safety precautions included in the owner's manual of your fitness equipment.
*Heart rate monitors used for exercise such as the wireless heart rate monitoring chest strap, grip sensors, or forearm monitors are not medical devices, and their accuracy may be affected by a number of factors. They are also not intended to diagnose, treat, cure, or prevent any disease.
iFIT requires an internet connection and Wi-Fi to function. You will be required to provide your credit card information upon sign-up for iFIT. Your Commitment Period may be month-to-month or twelve (12), eighteen (18), or thirty-six (36) months, depending on your agreement. Terms shall apply to your iFIT use and subscription during your Commitment Period and any subsequent Renewal Term. Unless you cancel your account or notify us at least twenty four (24) hours prior to the expiration of your commitment period that you do not wish to renew your subscription, your iFIT subscription will automatically renew for an additional month, one (1) year, or two (2) year period, as applicable, for the same duration as your initial commitment period ("The Renewal Term"), and you authorize us to bill the then-applicable membership fee and any taxes to the payment method we have on record for you. 
Sources:
https://www.proform.com/exercise-bikes/studio-bike-pro-22
https://www.proform.com/blog/faq-studio-bike-pro-22/
https://www.proform.com/blog/beginners-guide-to-ifit/
https://www.nordictrack.com/learn/everest-live-workout-ifit/
https://aaptiv.com/magazine/perfect-indoor-cycling-form
https://www.proform.com/accessories/smartbeat-forearm-heart-rate-monitor
https://www.healthline.com/health/fitness-exercise/stationary-bike-workout
https://www.proform.com/exercise-bikes
https://exercisebike.com/category/reviews/
https://exercisebike.com/bike-review-nordictrack-commercial-s22i-studio-cycle/