Bike Review: Freemotion Coachbike™
UPDATED, September 13, 2021
If you're a seasoned indoor cycle pro who thinks you've seen it all when it comes to biking workouts, then this bike review is for you. The exceptional team at Freemotion® has once again transformed the face of workout equipment with the release of the CoachBike™. This game-changing exercise bike is integrated with iFIT®—the global leader in interactive fitness that provides a fully immersive cardio experience unlike anything you've tried so far.
Your Personal Workout Coach With iFIT
As the name implies, the Freemotion CoachBike's™ most definitive feature is its coach-led workouts. Whatever your preferred workout style is, there's a large range of different workout coaches, including professional athletes, with different training styles to choose from. Once you find the perfect coach for you, you're on your way to achieving your fitness goals.
Truly Immersive Experience
What sets the CoachBike™ apart from other interactive fitness equipment is the lengths to which the designers have gone to deliver a genuinely immersive, coach-led workout experience that goes way beyond merely pedaling along with a coach on your touchscreen.
The bike features a 22-inch, HD interactive touchscreen display and offers high-quality stereo sound via Bluetooth® connection or the 3.5mm audio out jack. The feature that sends this bike over the edge, however, is the auto-adjusting technology that synchronizes with iFIT. In other words, the bike's resistance, incline, and decline all change in sync with the remote coach's commands––leaving your workouts to be completely seamless and responsive to your workouts without skipping a beat.
Though your bike's adjustments are handled for you by your coach, you can take over control anytime during your workout should you want to slow down or speed up. Once you're comfortable and ready to follow your coach's workout, simply choose the selection to follow the workout again. Plain and simple!
World-Class Coaching
Speaking of remote coaches, CoachBike™ allows you to seamlessly connect with thousands of on-demand workouts led by carefully curated fitness experts from around the globe. iFIT features sought-after fitness coaches from all around the world and from all different backgrounds like professional athletes, world-renowned champions, professional cyclists, celebrity trainers, physical therapists, and many other coaches that offer their own style to workouts.
Endless Coach-Led Content
The always-expanding iFIT content library is available 24 hours per day, seven days per week, and users can search for and sort new workouts by trainer, intensity, duration, location, and training type among other filters. Regardless of your fitness level or motivation style, you're sure to find something that works for you among the thousands of available programmed routines.
Studio Classes
Although there are enough coach-led, personal workouts to keep anyone interested, there are also plenty of studio classes for people who enjoy the hype of a group environment. Join other iFIT members and let the coaches, and competition, inspire and motivate you.
Worldwide Rides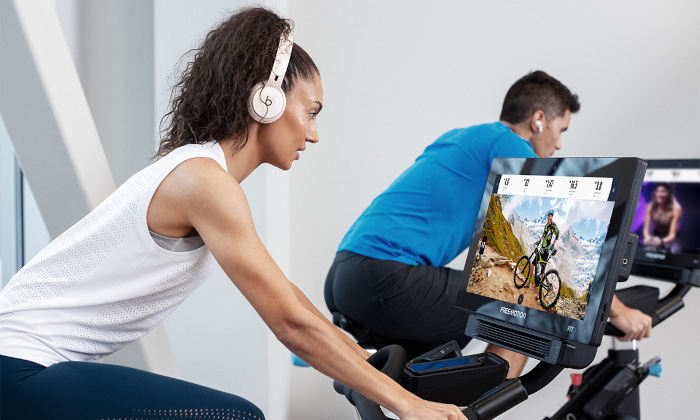 The Coachbike™ has a feature that competitors don't even come close to. Members are given access to thousands of stunning, high-definition videos of rides throughout different locations around the globe. Having been filmed in over 50 countries and on all seven continents and continuously being added to the iFIT platform, you can explore and train all at the same time. Ride through the villages of Turkey then bike through the colorful beaches in Chile all in the same day. How and when has that ever been possible, until now!
As you're overcome with the beauties of the world, your bike's incline and resistance will automatically adjust to match the terrain of your chosen workout all the while your iFIT coach describes the history and interesting facts about the location. This feature allows you to feel as if you were actually there riding with your coach in person. But be warned, you'll be so engaged in your virtual surroundings that you might forget you're even working out.
Legendary Races
Experience a fascinating workout opportunity with a chance to complete famous races, like the Tour de France, without having to leave your home. Check out the famous course for free by signing up for the iFIT 30-Day Trial and see what past athletes and participants have accomplished, then try it out for yourself.
Google Maps™
Because the CoachBike™ has integrated with iFIT and destination workouts doesn't mean you're limited to following your coach's workout. Make your own path by utilizing Google Maps™ to map out your own riding trail. As a matter of fact, why not virtually train for an out-of-town race by riding the actual course.
Quality Construction And Design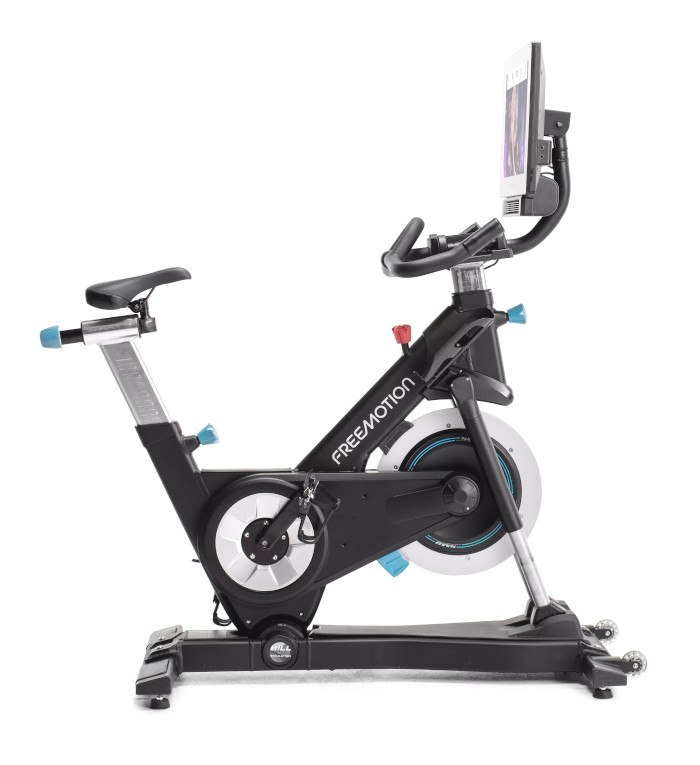 The construction and design of Freemotion's Coachbike™ does not disappoint. Its light-weight aluminum frame, Shimano pedaling dynamics, eddy current magnetic resistance, and Gates carbon GT belt drive system offers a smooth ride and maximum performance opportunity.
Limit-Pushing Capabilities
This bike can achieve up to 20% incline and -10% decline, plus 24 levels of resistance, so you can push yourself to your physical limits. Since the bike can reach these settings automatically, the virtual rides can offer truly grueling climbs and thrilling descents.
Designed For Performance And Comfort
No design detail was spared in terms of rider comfort and convenience. The seat, handlebars, and pedals can be adjusted to your liking, as well as featuring an ergonomic, padded saddle with fore and aft adjustments. The Coachbike™ also features 3-Speed Fan, or select the AutoBreeze™ feature, to enjoy a variable flow that responds to the cycling pace.
Conclusion
For more information about the Coachbike™ and all the incredible features it has to offer, visit the Freemotion website, and see how you can take your cycling to the next level!
To see what other bike options are available, see our NordicTrack Commercial S22i review and our ProForm Studio Bike Pro review to see which bike best fits you and your lifestyle.
DISCLAIMER: This article is not intended to replace the advice of a medical professional. The above information should not be used to diagnose, treat, or prevent any disease or medical condition. Please consult your doctor before making any changes to your diet, sleep methods, daily activity, or fitness routine. Exercisebike.com assumes no responsibility for any personal injury or damage sustained by any recommendations, opinions, or advice given in this article. Always follow the safety precautions included in the owner's manual of your fitness equipment.
IFIT DISCLAIMER: iFIT requires an internet connection and Wi-Fi to function. You will be required to provide your credit card information upon sign-up for IFIT. Your Commitment Period may be month-to-month or twelve (12), eighteen (18), or thirty-six (36) months, depending on your agreement. Terms of Service shall apply to your IFIT use and subscription during your Commitment Period and any subsequent Renewal Term. Unless you cancel your account or notify us at least twenty four (24) hours prior to the expiration of your commitment period that you do not wish to renew your subscription, your IFIT subscription will automatically renew for an additional month, one (1) year, or two (2) year period, as applicable, for the same duration as your initial commitment period ("The Renewal Term"), and you authorize us to bill the then-applicable membership fee and any taxes to the payment method we have on record for you.
Sources:
https://freemotionfitness.com/machine-for-home-gym/coachbike/
https://exercisebike.com/ifit-bike-support-getting-started-with-ifit/
https://www.youtube.com/watch?v=Ps9cgry83LE
https://www.nordictrack.com/learn/bluetooth-headphones-connectivity-to-machine/
https://exercisebike.com/bike-workout-turkey-endurance-series-ifit/
https://www.ifit.com/library/programDetails/5cd0bce5ce313b00286143e4/chilean_adventure_series
https://exercisebike.com/exercise-bike-home-gym-benefits/
https://exercisebike.com/bike-review-nordictrack-commercial-s22i-studio-cycle/
https://exercisebike.com/bike-review-proform-studio-bike-pro-22/